Most of the world breathes polluted air, WHO says
By Jacqueline Howard, CNN
Updated 4:42 AM ET, Wed September 28, 2016
(CNN)Almost everyone on Earth now breathes polluted air, according to an air quality map released Tuesday by the World Health Organization.
The
interactive map
, based on global air pollution data, confirms that 92% of the world's population lives in places where outdoor air quality fails to meet WHO guidelines.
This is a concerning public health issue, as air pollution can harm your lungs,
heart
and even
brain
— with the potential to cause
premature death
, said Dr. Maria Neira, director of the organization's Department of Public Health, Environmental and Social Determinants of Health.
Just how deadly is air pollution? About 3 million deaths each year can be linked to exposure to outdoor air pollution, according to the WHO.
"What is still surprising is the fact that we have been alerting about these horrible figures for a while now, and it's not improving," Neira said. From 2008 to 2013, global urban
air pollution levels
rose by 8%, despite improvements in some regions, according to the WHO.
Dirty air around the world
The new WHO map was created with data on the annual amount of
particulate matter
, or PM, found in the air around the world. PM is a type of air pollutant that consists of small particles, from tiny molecular clusters to the dust or pollen that we can see. For instance, PM2.5 has a diameter of fewer than 2.5 micrometers, and PM10 is about
one-seventh the thickness of human hair
.
Data were collected from 2008 to 2015 using satellite measurements, air transport models and ground-station monitors based in more than 3,000 locations in 103 countries.
"With more accurate methodology and satellite information and better calculation of the estimates and using the standards, now we can be more confident in the data," Neira said.
PM measurements were used to build the map because particulate matter includes different pollutants, it is universally present around the globe and it poses a public health risk, she said.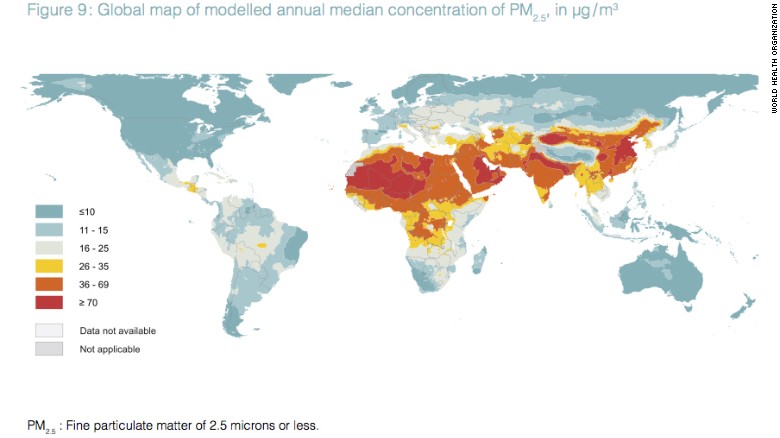 PM2.5 includes pollutants such as sulfate, nitrates and black carbon, which can sneak deep into the lungs and cardiovascular system.
Separate studies have shown associations between increased
PM2.5 levels
and increased
risk of mortality
and morbidity, said Jim Zhang, professor of global and environmental health at Duke University's Nicholas School of the Environment and the Duke Global Health Institute. He was not involved in the new WHO map.
"We also have data to show how PM2.5 affects the lung and the cardiovascular health. For example, PM2.5 exposure increases tissue and systemic inflammation, increases oxidative damage to DNA and cell membrane lipids, increases the risk for thrombosis," he said. "We also started to see cumulating evidence that PM2.5 lowers birth weight and impairs metabolic, cognitive and immune function."
These smaller particles can enter and deposit deep into your lungs, and cause the most health effects, said Stuart Batterman, professor of environmental health sciences at the University of Michigan, who was not involved with the new WHO map.
"Those health effects can include aggravation or causation of asthma, cardiovascular and respiratory disease, hospitalizations and death," he added.
Where air quality is most alarming
Many of the areas lacking clean air are in the Western Pacific, the Mediterranean region, sub-Saharan countries and Southeast Asia, according to the map.
Nearly 90% of deaths linked to air pollution occur in low- and middle-income countries, and nearly two out of three occur in Southeast Asia and Western Pacific regions, according to the WHO.
Although most sources of air pollution are from human activity,
air quality
can also be influenced by natural dust and dust storms, found in many desert environments in those regions, according to the WHO.
"Many of the places that have high levels of pollution have very little monitoring data, and this includes countries highlighted in the report, including most of Africa and much of the developing world," Batterman said of the WHO map.
"Air pollution is causing millions of deaths per year, mostly but not exclusively in the developing world, due to very poorly controlled combustion as well as indoor air problems from the use of biomass fuels indoors, such as wood, dung and coal," he said.
Yet much of the developed world shows high levels of PM as well, according to the map. This includes major cities in Europe, such as Paris and London, and those in the United States, such as Los Angeles, New York and Chicago.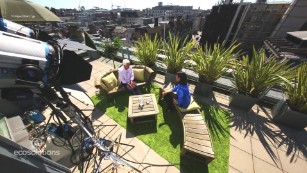 "The pollutants that affect most people in the United States include particulate matter, especially the smallest particles that enter deep into the lungs, and ozone. Ozone has tended to be a problem that has affected large portions of East Coast, Gulf and West Coast," Batterman said. "There's also major regions across the Midwest and elsewhere that have problems with ozone.
"Particulate matter pollution also has been an issue in many different regions," he added. "It is often a problem in some of the more urbanized areas, as well as industrialized areas of the country."
However, in order to move forward in efforts to improve air quality, identifying the type of pollutant in various regions is just as important as identifying the sources of pollution, Neira said.
Improving air quality
"You would find out there is a big proportion coming from transit," Neira said. "Probably another part will be on the choices of energy we make every day, whether we use coal, fire, power plant or cleaner sources of energy. The way we heat our buildings, or refrigerate our buildings, on the household level. … And for many countries around the world, there is still an issue of waste management."
The WHO recommends an assessment of sources of pollution. Once that is complete, that information can be shared with policymakers for change to happen.
"Governmental regulations and enforcement are absolutely essential to achieve better air quality. Air quality regulations will stimulate the development of cleaner technologies and force the use of pollution-control devices installed on the smokestacks and motor vehicles," Zhang said.
"The world needs cleaner and renewable energy. In the urban areas where vehicular traffic is the predominant source of local air pollution, efforts should be made to reduce the number of traveling vehicles by sharing rides, biking and using public transportation and electric vehicles."