Collaborate, Empower, Take Action: Why IAQ Buy-In Is Critical
EPA Indoor Environments Division sent this bulletin at 03/08/2017 10:00 AM EST
View EPA's On-Demand Professional Training Webinars to Gain Buy-In From School Personnel!
Here's what a school district representative has to say about these online trainings: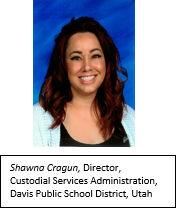 Acquiring the knowledge—
"I thought I had a good understanding of IAQ, yet in every webinar, the presenter has given at least one more thing I want to add to my program. Before attending the webinar series, we had several segmented programs related to IAQ management, which were maintained by different departments. Now we collaboratively meet and work with everyone who is involved with IAQ management and have created one master plan for everyone to use. Before, we were good at assessing and remediating IAQ issues, and now, we are continually improving our prevention practices. In addition, the knowledge we have gained has given us much more validity."
To learn more, view Healthy Schools, Healthy Students: Taking Action to Improve IAQ in Your School District.
Converting knowledge into action—
"The knowledge we have gained has helped to empower us to make the case with teachers and others to improve buy-in. As an example, explaining how air fresheners aren't allowed because they can trigger asthma has helped teachers understand it's about children's health."
To learn more, view Making the Case for Environmental Health, Academic Performance and High-Performing Facilities.
"Buy-in from everyone is critical to a successful IAQ management program. To gain buy-in, I used the webinars to provide tailored education unique to each staff member by showing specific clips from the webinars. In addition, if a staff member had a specific question, I was able to refer to the webinars and add validity to my answer because this is what EPA was showing in their webinar."
To learn more, view Better Together: Gaining Buy-In for Optimal Ventilation.
DID YOU KNOW?
After viewing the IAQ Knowledge-to-Action Professional Training Webinar Series, 70 percent of the webinars' attendees thought their knowledge of IAQ management best practices and technical solutions had increased!
Learn more at:  https://content.govdelivery.com/accounts/– USEPAIAQ/bulletins/18aea29