Healthy Indoors – Live from HOMEchem in Austin, TX
AUSTIN– Healthy Indoors Magazine will be in Austin, TX for the HOMEChem open house event on on June 22, 2018.  HI publisher Bob Krell will co-host this week's IAQ Radio show with Joe Hughes live from the UTest House at 12:00 PM EDT.  Bob will be joining Corbett and Grace Lunsford, hosts of the upcoming PBS series, Home Diagnosis, for an up-close look at the IAQ research being conducted this month for the HOMEchem project, and to film their first installment of their new monthly video feature for Healthy Indoors Magazine.
ABOUT HOMEChem
The HOMEChem experiment (House Observations of Microbial and Environmental Chemistry) will take place in the month of June 2018, incorporating measurements from over 20 research groups from 13 universities to identify the most important aspects of the chemistry that controls the indoor environment. The HOMEChem field study is expected to kick-start the Chemistry of Indoor Environments community of scientists, while also answering interesting preliminary science questions on the chemistry of indoor environments in a real-world experimental setting. This research effort brings an excellent opportunity for outreach to the broader scientific community and other stakeholders, such as other funding agencies, the local and national media, and the public.
Through this study, we will provide answers to interesting research-based questions using high-end atmospheric chemistry instrumentation, create an opportunity for intercomparing our instruments, and generate a high-quality dataset for the Indoor Chemistry Modeling Consortium (MOCCIE). ​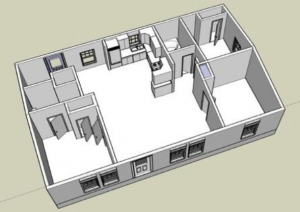 Location
The Manufactured Housing Institute estimates 22 million people live in manufactured homes in the U.S. (about 7% of the population). HOMEChem will take place at the University of Texas at Austin's test house (the UTest House), which is a 1,200 square-foot manufactured home. This unique facility is one of only a few in the world dedicated solely to indoor environments research.
Home Diagnosis is a 6-episode 30-minute series coming to your television in 2018! Shot in cities across the U.S. as part of the Proof Is Possible Tour, the show follows Corbett and Grace as they solve mystery problems of all types in homes new and old. Presented by Georgia Public Broadcasting with post-production by ECG Productions.
IAQradio is the place where the world discusses indoor air quality, the built environment and disaster restoration issues. Every Friday at noon ET the show is live. The shows hosts are Joe Hughes, President of IAQ Training Institute and Cliff Zlotnik, President of IDEAZ, LLC. Every week we interview experts from the indoor air quality, building sciences and disaster restoration industry.